Going for Green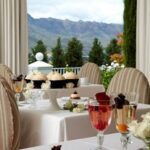 If you are searching for delicious, The Greenhouse is a great place to start.
It is a wild winter evening when we arrive at Cellars-Hohenort in Constantia. A fleet of cars are lined up outside the restaurant, belonging not to guests, as we are later told, but to kitchen staff. While there's a waiting list to eat at The Greenhouse, on this wet and windy night, there are many cancelations, leaving a ratio of 14 chefs to 17 diners.
Eating at The Greenhouse must be a very different experience on a balmy summer evening, with the outside/inside design offering views of the hotel's breathtaking gardens. The space works well, but differently in winter, when rain beats a soothing calypso on the window panes creating an intimate ambience in a dining area which has limited seating, for just 45 people.
On the cover of The Greenhouse's menu is an unattributed quote: "A beautiful plate of food is eaten with the eyes first." Indeed, the presentation of the food at The Greenhouse is fabulous. It's a burlesque show with dishes arriving in a dazzling variety of costumes: popping coyly out of ostrich eggs or wrapped in a swathe of carbon dioxide steam. The visual variety references a cross-cultural array of aesthetics – Grand Chef Peter Tempelhoff's globetrotting gastronomic lifestyle is evident in the plates alone, which range from New York city-slicker-style rectangular glass to Japanese wabi-sabi-style wooden.
Emphasising the visual stimulation are different waiters who bring out our various dishes throughout the evening, giving the effect of an entire host of people taking care of us. A constant in all this fluctuation is the sommelier. I have a real soft spot for these characters. I love how, under their gentle tutelage, wine assumes an aura of magic. All my best evenings have a lot to do with these people steering me gently towards a state of story-filled inebriation. Slightly stooped, Joshua Crowe carries a tinge of Gormenghast melancholy. Whilst the presentation of the food makes far-flung geographic references, the wines selected (with the exception of one) come from the Constantia area, giving a deeply rooted feeling that balances the otherwise exotic influences.
Now for the food: fabulous and fascinating.
The tasting menu consists of four courses. Each plate contains such a fascinating array of detail. My partner says, "You can spend the entire evening just figuring out what you are eating." The influence of master Japanese chefs Kiyomi Mikuni and Yoshi Takazawa, with whom Peter recently spent time, reflects in the first dish I tried: the blackened yellowtail and West Coast oysters. This was my least favourite part of an evening that increasingly stroked my taste buds. I just don't like chilled soba noodles. The oyster, nature's perfect food, was adulterated beyond recognition. I believe the flavour of an oyster cannot be improved, and deserves to be revered in its naked glory. Still, the delicate slices of blackened yellowtail and the apple wasabi pannacota were divine.
The Foie Grasnola and Big Numnum brought sighs of appreciation from my partner who said, "Thank goodness for something voluptuous: I'm hungry, after all." The crunchy honey nut granola in this dish worked with surprisingly good effect alongside the succulent foie grass. My Cape Malay Kabeljou was exquisite. Lobster dhal, aubergine ragout, coconut jelly and crispy onions were served on a plate while the spicy bisque bubbled separately in a cute potjie, allowing me to spoon it as I pleased. It was accompanied by my new favourite wine, the Groot Constantia Shiraz 2010, a red that is light enough to serve with fish.
By the time we reached the puddings, we had cosied up close to perfection. The Naartjie and Baobab was utterly delicious. Served in a coconut dish and eaten with a wooden spoon, it hinted at tropical Copacabana nights. Maybe more suited to the current weather was the sublime Camembert cheesecake.
Whilst Grand Chef Peter Tempelhoff is acclaimed for his imaginative, conceptual approach to cooking, speaking to him later, he emphasised his respect for simplicity, stressing that local, carefully selected ingredients and indigenous flavours are the mainstay of his approach to cooking at The Greenhouse. His eyes glaze over when he remembers his favourite meal, an impromptu and informal affair in an inconspicuous Japanese restaurant run by a husband and wife.
The Greenhouse menu ends with the words Good food is the shortest-lived art, but I enjoyed an evening of sensual pleasure that will linger pleasantly in my memory for a long time.
Dawn Kennedy – Sep 23rd 2012, 10:12