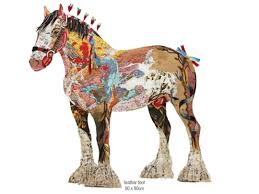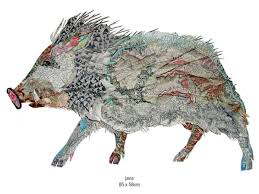 At the opening of Peter Clarke's exhibition in the South African National Gallery, a crowd
of people of many backgrounds congregated for a common cause – to pay tribute to the
artist who is a mentor and role model in his community at Ocean View. Taking the podium,
the spry and articulate 82-year-old cracked a joke as the applause subsided. While Clarke's
work has featured in nearly every significant collection on exhibit, he has never had a solo
exhibition at Iziko. In 1993, he threatened that he would haunt Iziko unless they offered him a
solo exhibition. "Now," he quipped, "that would seem ungrateful and so I've decided to haunt
the slave lodge instead."
The works in the exhibition narrate, in Clarke's words, "a long journey, a great distance
travelled". Clarke was born in Simon's Town in 1929 and worked in the dockyard before
becoming a full-time professional artist in 1956. During his career, spanning nearly six
decades, he recorded many aspects of South African life.
It's hard to resist noting the contrast between Clarke and Tretchikoff, whose work previously
occupied Iziko's wall space. The flamboyant Russian lived a lavish Bishopscourt lifestyle.
He worked in a spacious light-filled studio in Constantia Nek, depicting local women
as exotic fantasies, detached from their natural environments. While dubbed the people's
painter, he never championed the underprivileged (which many claimed he exploited in his
paintings). Clarke, on the other hand, is esteemed for both his artistic ability and his
lifelong humanitarian encouragement of struggling artists. He lives modestly, in a
two-bedroom home in Ocean View, has no studio and often paints in his bedroom,
balancing his work on his knee.
His art provides an intimate peephole into the community and emanates the palpable
warmth of familiarity. He has said, "My art is about people and the presence of people. The
humanistic image is what interests me. I enjoy reflecting on people and their activities, their
emotions and what could be the events in their daily lives."
Drive into Ocean View and anyone can direct you to Peter's house. He's lived here for the 34
years since he, and many other Ocean View residents, were forcibly removed from Simon's
Town. He has known many of his neighbours since childhood. Inside the living room, the
walls are adorned with gifts of paintings by some of the many students he has mentored
over the years. Stacks of art books occupy every corner and speak of an insatiable passion
for art: titles include art history, painting techniques and artists throughout every era
and from every continent.
While other kids of his neighbourhood wanted to become train drivers, electricians or firemen,
at age 15 Peter knew that he would be an artist. He followed that destiny with a quiet
determination. Such characters fascinate, as they hint at invisible forces guiding our fate:
why should the muse have so unpredictably alighted on Peter's shoulder and remained
there so determinedly?
I'm curious to know what Peter considers his best work. After a moment's reflection, he tells
me that his favourite works are the landscapes that he painted of Tesselaarsdal where he
lived for three months every year from 1956 to 1960. In one of the paintings that depict
this landscape, the dusty red earth collides with the blue sky in the dramatic way of
South African landscapes. In the foreground stands a gnarled bush, like an arthritic finger,
depicted in detail. Most people would certainly have overlooked the unobtrusive shrub that
captured his fascination.
There is so much that strikes me as remarkable about Peter. I would call him a renaissance
man, an artist of life who is also a poet. He says that it would have been easier if he had been
born a twin, so that he could alternate between poetry and art. Listening to his nuanced turn
of phrase is a pleasure.
His art doesn't dwell much on politics, although several incidents of violence and racism are
seared into his memory. Recounting one of the darkest moments in his life, he tells me about
the time he was arrested during the Sharpville era. He wonders if the young police officer who
held his boot to his face, still remembers it. He leaves me with a poetic image that captures the
poignancy of the teenage boy's helplessness:
at the time of his arrest, he'd just bought some meat, wrapped in plastic, for his mother, which
he held crushed in his fist for the duration of the 30 minutes that he spent in the back of a
police van.
An enduring optimism emanates from most of Peter's art. While he paints the tangible world,
the human heart and nature's quiet grandeur seems to flow through his brush strokes. He
is quoted, on the exhibition walls, as saying, "When I was child I used to wonder about space
and time and the beating of my heart. I used to wonder about life and death. I wondered and
still wonder about a whole variety of things. For instance, at 82 years of age, the child in me is
still awed by the sound of distant thunder." It's this wonder and curiosity about life that makes
Peter – and his art – so likeable.
Currently Peter is making books fashioned out of recycled material. Flicking through the pages
that are like a young person's journal, he says, "These pages mean nothing. I'm having fun,
playing like a child." Closing the book, he looks up and, holding my gaze, says, "There's no
time for being bored. You should only be bored when you are dead".