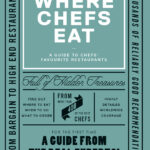 Where Chefs Eat is a mouth-watering compendium of recommendations from over 400 of the world's top chefs.
Imagine arriving in a city you have never visited and knowing exactly where to eat breakfast and what to order. For a certain kind of globetrotting gastronome, such knowledge is priceless, or at least worth the R264 that it will cost you to own Phaidon's Where Chefs Eat. The book is an ultimate insider's guide, full of hidden treasures, from a 100-year-old San Francisco oyster bar to a seafood shack on the Lebanese coast.
The idea was not to compile a list of "best restaurants" – after all, how does one judge "best"? (The place that serves the best scrambled eggs is not likely to be the same establishment that offer scallops in champagne sauce.) Instead, Where Chefs Eat takes the more intelligent approach of suggesting the best places to eat for specific occasions, from bargain to high-end. A questionnaire was dispatched to over 400 of the world's top chefs, asking them where they prefer to eat breakfast, where they like to grab a cheap bite, and where they go when they want to splash out.
What makes this book interesting to 021 readers is the inclusion of recommendations by Scot Kirton (chef at La Colombe), Luke Dale-Roberts (chef at The Test Kitchen), and Peter Templehoff (who oversees five Relais Chateaux restaurants). Both Scot and Luke chose The Greenhouse as their high-end choice. Peter chose Nobu. In a curious entanglement, both Peter and Scott named The Test Kitchen as the restaurant they wish they had opened. Luke says he wishes he had opened Carne, on 70 Keerom Street.
Luke recommends Melissa's as a breakfast spot. While most entries are listings, famous food writer Joe Warwick (who started the World's 50 Best Restaurants awards), writes selected restaurant reviews.
Writing about Melissa's, he raves about "the wildly popular eggs Benedict with toasted Turkish bread" and "the enamel breakfast mug of baked eggs, bacon, tomato and mascarpone". Scot Kirton's breakfast recommendation is Olympia Café in Kalk Bay.
Cape Town is mentioned by international chef José Pizarro, who says Azure, at The Twelve Apostles, is "worth travelling for" because of its incredible views, use of fresh herbs from the garden, superb South African wine selection and dishes such as springbok tenderloin.
Places that I'm adding to my list to try are Massimo's – the Italian restaurant at Oakhurst farm, recommended by Scot Kirton as a local eatery. Luke's bargain recommendation is Bihari in the Southern Sun, Newlands. Scot opts for the Italian/Portuguese Beleza in Kloof Nek Road
A Guide to Chefs' Favourite Restaurants is available in print (Phaidon) and as iPhone and Ipad apps.